Stay Updated With Digital Marketing News & Trends
This is a continuation from the previous article on how to choose your online media platform. In this article, I will share why you should not combine lead generation and branding strategies in a single campaign.
Choose Your Goals
Is it going to be branding or lead generation? Many businesses are focused on lead generation and sales. This is especially so for startups and small businesses with a shoestring budget but the pressure to produce results fast, but if people don't know or trust your brand, they're not going to buy anything from you. While there are solutions focused on lead generation, it is important to understand the difference between a branding and lead generation campaign.
If you could create brand awareness while generating leads, why should you run your awareness and lead generation campaign separately?
Simple, the strategy of the campaign is different. If you try and lump 2 objectives together, you are going to water down the campaign. Here's an example showing how a brand would try and create awareness and generate leads at the same time.
Killing Two Birds With A Stone
Let's say you are the owner of John's shoes. Your marketing plan to boost sales is to offer a good discount on a new shoe design.
You want as many people to know about this fantastic promotion, so you run some broad targeting ads on Facebook and Instagram targeting everyone aged 18 – 50 living in Singapore.
Your ad copy says "John's Shoes New Design At 20% Discount". The ad looks attractive, and people clicking on your ad are brought to a website that shows:
The brand story

The unique selling point of John's shoes

Other John's shoes they can consider

The image of the new shoe

The specs of the shoe

The discount mechanics

How to make a purchase

Terms of purchase

Delivery information
The good price attracts people and you can create brand awareness while they are shopping on your site right? Not quite, here's why.
The Broad Audience
A broad ad targeting increases the pool of people you can reach, whether or not they are interested in shopping, ready to buy shoes, or hunting for good deals, etc. If your objective is to increase sales with a broad targeting ad, you would have paid to send your message to a person who is less likely to take an action (e.g. buy a product, sign up for e-newsletter).
A broad targeting method works for long-term and evergreen campaigns at the top funnel to create brand awareness, and increase brand recall so if a customer ever wants to buy shoes, your brand appears top-of-mind.
Now let's take a look at the landing page after a person clicks on the ad.
The Aimless Landing Page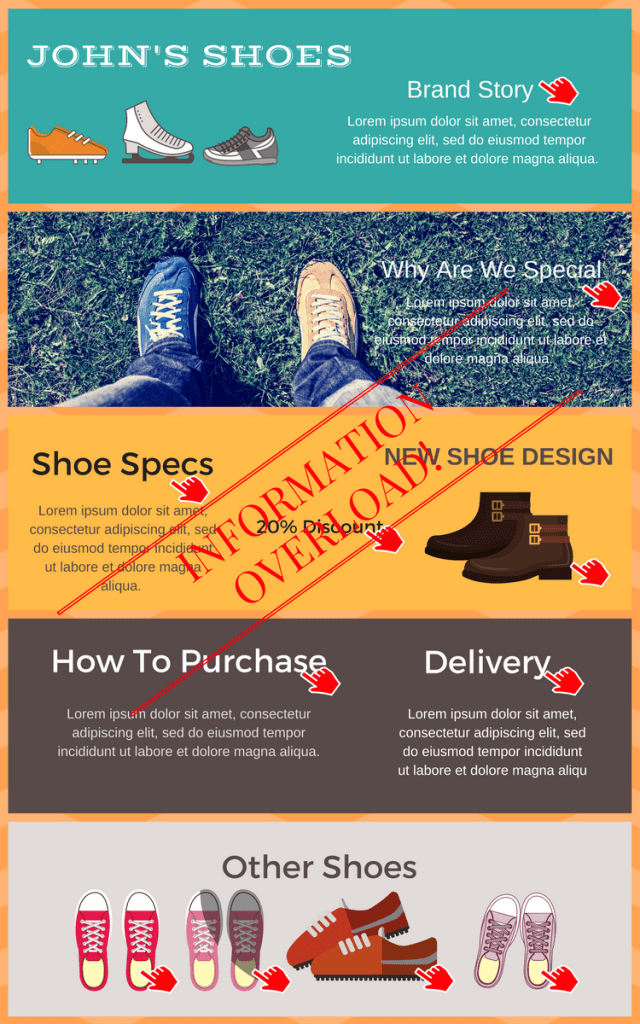 That is information overload for your customer. Take a look at the red pointers on the example above, there are 11 items drawing attention the action you want them to take – buy the new shoe.
Now let's take a look at a focused strategy to drive conversions.
The Narrow Audience
A narrow targeting ad increases the audience relevance, and the people you bring to your website are more likely to take an action but that also means you will have a smaller pool of audience.
This method has more precision and it focuses on driving conversions, but it is also short-term because the audience size is smaller in the bottom funnel, and it won't be long before you exhaust the list of prospects.
The Focused Landing Page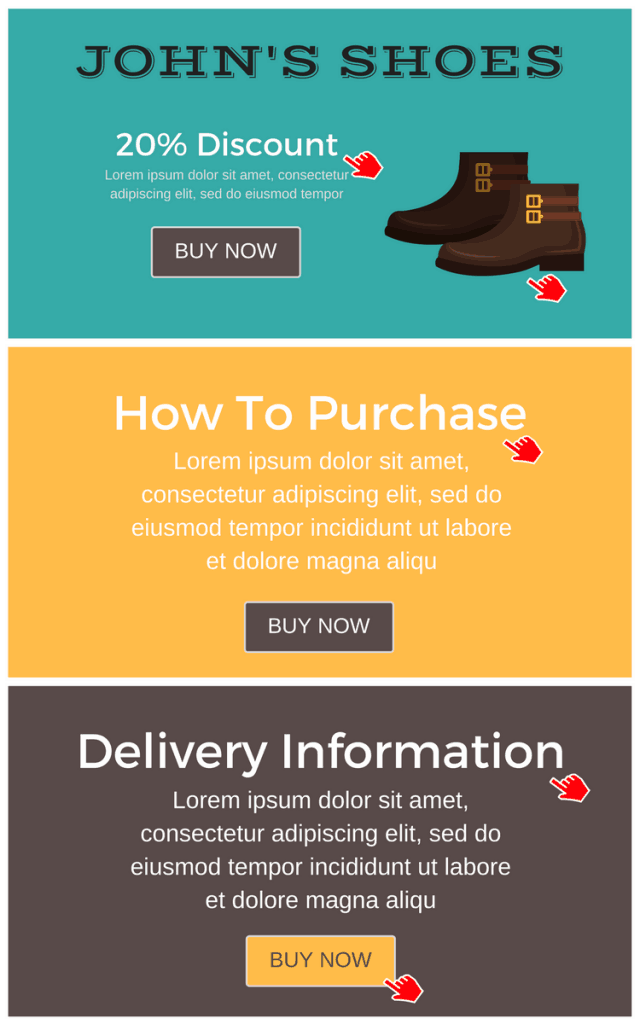 This landing page is more focused on the objective – get customers to buy the new shoe. There are 5 key points to persuade a customer to make a purchase, and nothing else on the page distracts a customer from making a decision.
There is more to landing page optimisation, but the simplified examples above explain why you should never combine a branding and lead generation in a single campaign.
In my next article, I'm going to answer the magic question you have in your mind before even starting a digital campaign – how much to plan for digital marketing.
If you have any questions regarding goal setting in your upcoming campaigns, feel free to send them to enquiries@clickrmedia.com and we'll be happy to discuss them. Till next time! 🙂
Stay Updated With Digital Marketing News & Trends