Holiday Social Media Tips and Strategies
Tis the season to be jolly! Or if you're a marketer, very, very stressed out by those sky high holiday KPIs!
The holiday season is an extremely competitive time for brands, with presents and holiday programmes seemingly giving consumers endless opportunities to spend.
But for some reason, you're still nervous about how your products will fare.
Perhaps it's the underwhelming performance from the year before, or you're just feeling lost!
Whatever the case, you'll need to know all the tricks in the book to compete this season and we're going to give them to you right here!
1. The Advent Calendar Model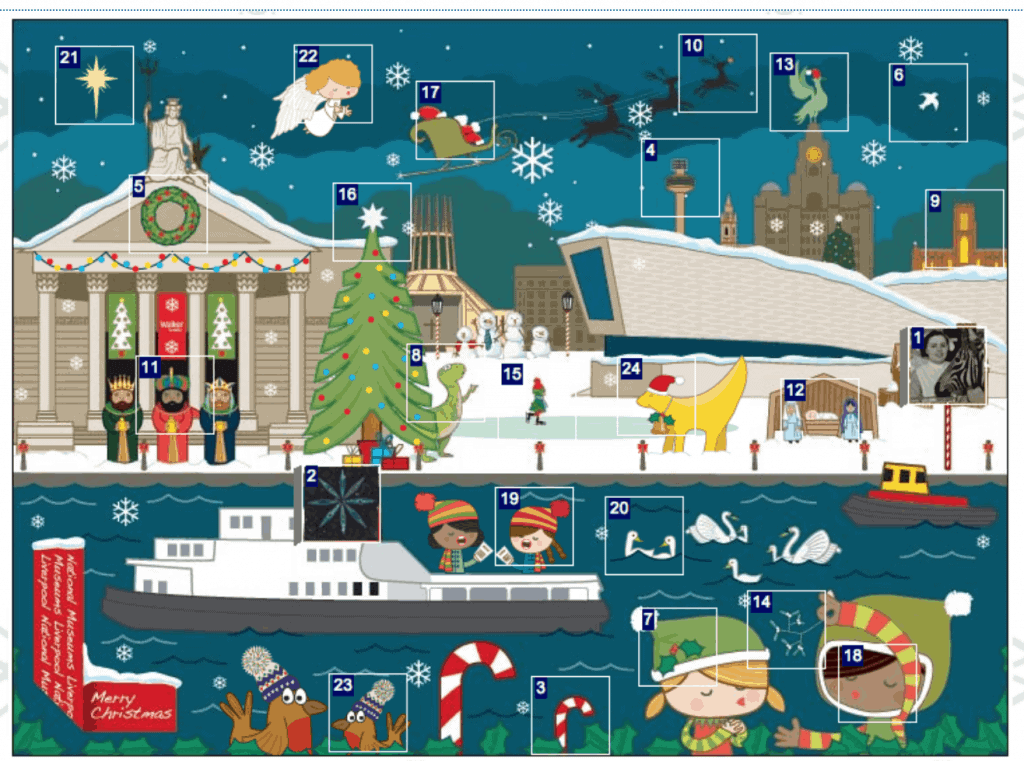 The advent calendar model is a popular strategy for brands because it's fun, festive and is a great way to keep your audience hooked.
If you're unfamiliar with an advent calendar, it serves as a traditional countdown calendar from December 1st till Christmas with little gifts like chocolates or toys each day.
Brands have adapted this in many ways, some offer different promotions everyday so users check the page everyday to snatch a deal or to see if the product they want is on sale.
Another popular tactic is giving out a different free gift with a purchase everyday.
The calendar can be a great way to showcase your products and expose them to customers who might not know your full range.
Liverpool's National Museum has a different take on the advent Calendar offering some fun historical facts about the area.
Advent calendars don't just work for promotions or products but it can be a fun way to educate your audience as well!
Depending on your needs and available assets you can easily create a template and replicate it for 25 days replacing the info.
Here are some free design tools you can get online to help you out!  
2. Mind Your Media Budget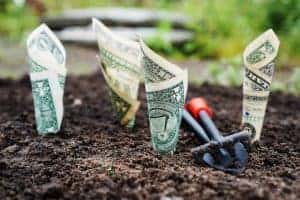 The holiday season can be a tricky time for media planners, brands are all itching for their time on social media feeds and that can affect how much you should spend.
Because Facebook follows an auction model where brands that pay the highest win more coverage, things can get competitive when multiple brands are involved.
Our resident Senior Media Strategist Edwin Tan has this tidbit of wisdom to share about planning your budgets: "I usually advise clients to expect to prepare 20%-25% more to hit their regular reach and interaction rate because of the competition. If they aren't getting optimal results, it might be worth placing a manual bid instead of an automatic bid to gain better reach."
He also advises brands to start delivering their ads about a month before Christmas or as early as the first week of November if possible.
The holiday season is all about fighting for top of mind and striking at the moment your customers are ready to buy, so keep the ads coming!
Still feeling worried or clueless about how to spend your media budget? We've got more tips here!
3. Sharing Is Caring
Sharing can be a great way to establish greater brand presence as well and it's a great way to incorporate the season's theme of sharing!
Instead of the regular regular share and comment style of posts, consider adding a festive theme or doing something a little more creative.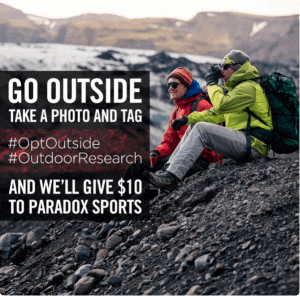 REI, an outdoor clothing company based in the US started a #OptOutside campaign to encourage people to spend Black Friday in nature instead of in malls trying to get the latest deals.
The company has since launched the same campaign every year, closing their stores on Black Friday and awarding fans who share photos of their outdoor adventures.
Closing your stores on such an important day for retail outlets and losing out on sales may seem like pure insanity to some people, but they'd be missing the big picture.
Last year's campaign generated close to 1.4 million posts on Instagram and resulted in a 23% uptick in digital sales.
The campaign paid off in more than just sales, it also helped to reinforce the brand as an outdoor clothing company by showcasing its values.
Think about how your brand can share its values in a way that's complementary to the season and create a campaign around that!
If you're selling dog food, perhaps a campaign about sharing pictures of your dog in a santa hat could work!
Use your imagination!
4. The Spirit Of Giving
It's the season of giving, and as a brand,you can be in a great position to give back and strengthen your brand positioning!
No matter what brand you are, the public appreciates one that gives back to the community.
Surveys have shown that Millennials prefer brands that give back and up to 94% of consumers would consider switching brands for a charitable cause.
Tom's campaign while not festive has helped define them as a brand that cares about communities.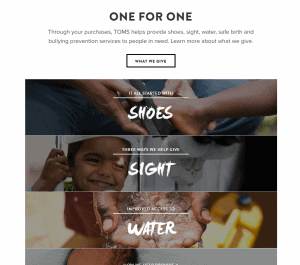 Their campaign pledges to donate a pair of shoes to the less fortunate for every pair of shoes bought.
The campaign has helped Tom's define itself as a brand and has grown to be valued at $625 million today.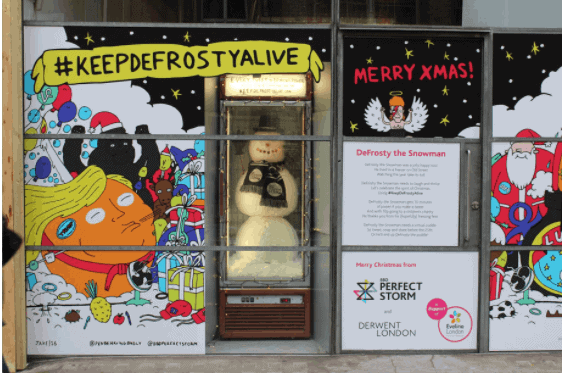 Another popular campaign by Evelina London Children's Hospital stored a snowman in a freezer and encouraged people to tweet with the hashtag #keepdefrostyalive.
Every tweet users sent would result in electricity to power the freezer for 10 minutes and a 10 pence donation.
While you needn't hold a snowman hostage for your own donation campaign there are simpler strategies any brand could give a go.
Pledging to donate a certain amount for every sale, or to make one if you reach a certain amount of fans or sales can do the trick.
5. Tap Into Facebook Live
Unless you've been living under a rock, you've heard of Facebook Live.
The feature launched early last year and  while it quickly gained popularity, it only started to really peak this year and brands are climbing aboard the live train.
One of the most common ways brands can utilise the feature is to do live auctions and offering special discounts on products.
A great way to tap into the festive mood is by doing themed shows, like a show featuring gifts for dads and another for moms and so on.  
Live auctions are very easy to setup as well, all you need is a room with good lighting a tripod stand and someone to moderate the comments as your host shows off the items and you're good to go!
But if you're not comfortable in front of the camera get someone who is!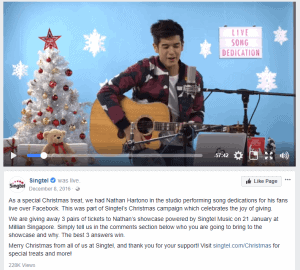 Singtel's Christmas campaign last year invited fans to tune into request live songs from Nathan Hartono himself!
DBS had a similar campaign as well where users were invited to ask Nathan Hartono what presents they should get for their loved ones.
The campaign was spearheaded with a widely publicised and shared advertisement to spread awareness and curiosity about the event.
If you're a smaller brand that might not be able to afford Nathan, consider getting other influencers that fit your brand involved.
You'll not only be able to ensure a better quality show but you'll be able to tap into the influencer's fan base and viewership as well, attracting new faces to your brand.
If you need some help with influencer campaigns, we've got a handy article here about it as well!
6. Greetings Posts
You've seen these everywhere, shared across Facebook by brand and even your friends and family.
While it's a simple gesture, don't underestimate your holiday greeting posts.
At the end of the day, people do share them, countless WhatsApp groups or friends and family across the country will be filled with little images and graphics, and you should definitely get in on it.
To put things more into a more local perspective, your greeting posts are kind of like red packets brands give out at Chinese New Year.
The prettier they are, the more likely they are going to be used and the more people will grow to recognise and identify your brand.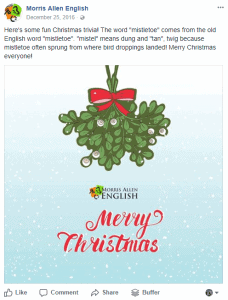 This post by Morris Allen English is simple but attractive enough to be shared.
There was also a little piece of trivia in the copy which suited the brand's mission of education.
Try to keep greetings in the image so they are shareable on chat apps like whatsapp or wechat.
GIFs are also a great way to post your greetings if you have the assets to carry it off especially for such a fun holiday season!
There are plenty of free design webapps you can use to design your own greeting which you can check out.
Just don't forget to include your branding on the greeting as well!
7. Optimise for E-commerce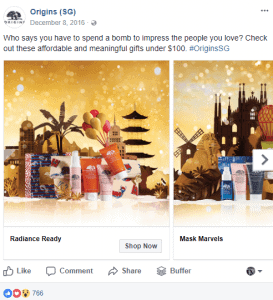 If you have an e-commerce platform, be sure to optimise your ads for them as well.
Carousel ads are great ways to showcase products and you can link the individual panels to their product pages for easy access.
If you're posting images or videos, don't forget to indicate the products on the ads and provide links to them as well.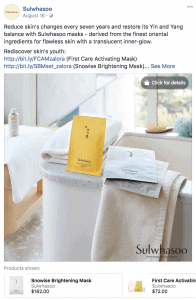 Sulwhasoo does this by integrating their e-commerce with Facebook Catalogs.
You can do the same from Facebook Ads Manager under Assets where you can show prices and link to your own e-commerce store or another merchant.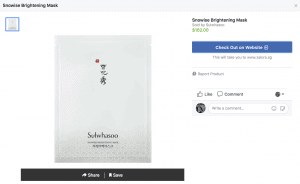 Another strategy brand use during the holidays has been around since the dawn of the printing press – gift guides and catalogues!
Most people have trouble choosing gifts especially if it's someone of the opposite sex or a casual acquaintance.
Carousel posts and gallery posts are a great way to showcase your products and make suggestions to confused and overwhelmed shoppers!
There are plenty of ways you can present these as well, by product category, who your shopper is buying for and so on.
And once again, you can link these panels directly to your store to make buying easy.
Last but not least, definitely consider stocking up or offering vouchers for your store or brand.
The holiday season is a popular time for luck draws, company D&Ds or just people who have absolutely no idea what to buy.
Consider dedicating a couple of posts or creating some vouchers if you haven't already, and put a festive spin on it with attractive designs.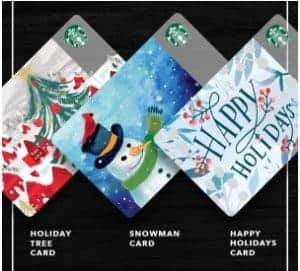 Starbucks cards are a great example to follow.
Get Started On Your Holiday Campaigns
Now that you're equipped with a bunch of ideas, go forth and use what you think works for you!
Be sure to think about what kind of values your brand shares with the season and what strategies can help you build upon that!
Feel free to drop us any questions or comments or even to share some of your ideas with us at this email: enquiries@clickrmedia.com
Looking for social media ideas or strategies?
Check out our comprehensive guide of 46 Advanced Tips For Running Your Social Media Channels & Campaigns. We'll go through come of the techniques we use ourselves with an easy instructional format and it's also filled with local case studies!