Visual marketing is undoubtedly one of your best bet to capture your audience's attention. As with every marketer's jam-packed schedule and never-ending list of things to do, the hurdle lies in trying to create high quality visual content within the least amount of time, and not to mention – the most budget-friendly solution.
With the plethora of tools available, how do you select the right tools to use to create quality aesthetics without breaking the bank? Also, fret not if you find it challenging to use Photoshop or advanced design softwares, because we've got you covered!
Here's a list of handy tools that every marketer needs in their handbook:
Image-Creation Tools
Canva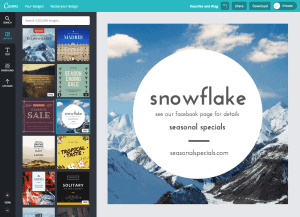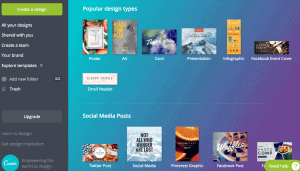 Canva is a popular solution when it comes to creating designs for infographics, posters, social media images and more. It is equipped with an extensive library of icons, photos, graphs, charts for you to create your ideal design, and you can also upload your own images as well. Before you know it, you will be spoilt for choices on the variety of templates available for you to choose from!
Snappa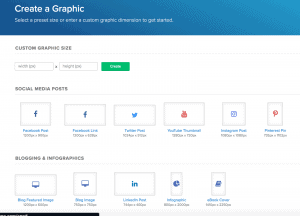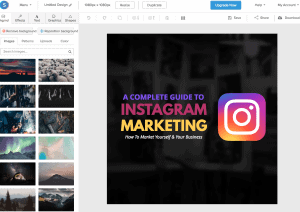 Next, Snappa offers a myriad of templates on every social media platform, with customised dimensions according to each social media platform that you are targeting. At the glance, you will be able to select the templates on the homepage, as all the options are displayed and categorised accordingly for your ease of selection.
PicMonkey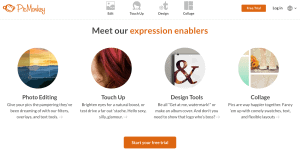 If you are not well versed in Photoshop, have you heard of PicMonkey? It's an online photo-editing software that allows you to edit, touch up, design images and collage multiple images together without having to rack your brains over the complex features of Photoshop or mulling over countless Youtube tutorial videos. You can access the basic features of PicMonkey, or get a free trial before subscribing a premium account to unlock all the features.
Prezi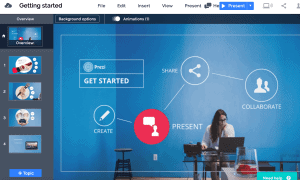 Unlike static slides, Prezi allows you to engage your audience better through its unique motion and zoom features, and spatial relationships to illustrate the connections between each ideas. Information is much more digestible when it is broken down into bite-sizes, and even better when it is in an interactive form where icons can be zoomed in to delve deeper about the topic, or zoomed out for ease of visualisation.
Infographics
Piktochart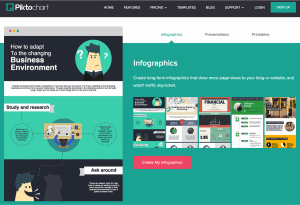 Infographics is all about communicating a story through images to the target audience. With Piktochart, you can modify the colour schemes and fonts to suit your theme, and insert graphics to spruce up your infographic. There are also grid lines that help to facilitate the arrangement of elements and resize images proportionally. This will take your visual communication to the next phase, without hiring a professional designer.
Infogram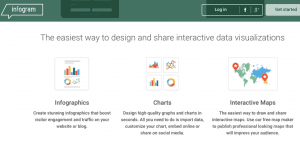 Today, it's all about the Gram. Visuals are essential to capture your audience's attention, and infographics are an excellent tool to illustrate complex figures and statistics into nuggets of
Information.
With Infogram, not only can you design infographics, but also create charts with a customisable spreadsheet, interactive maps, and even link videos to your infographics to make it interactive, instead of the usual sleep-inducing figures and statistics. You can also share your infographic with the rest of the Infogram users, or embed it onto your website and facilitate sharing on social media within the online community.
Font
DaFont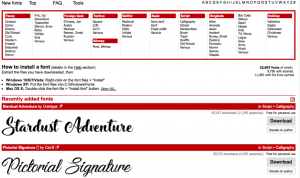 DaFont is your go-to when it comes to exploring new font choices for your designs. It has a large repository of fonts that allows you to discover the fonts by categories, popularity or recently added. Furthermore, you can input your own sample text to visualise how it looks like before deciding to download the font. But do note that certain fonts are not permissible for commercial use, so be sure to verify the licenses before usage.
Alternatively, you can consider FontSquirrel, which offers a library of fonts that is completely free for commercial use.
What the Font
If you ever come across a font and wondered what it is, What the Font is here to fill in the gap. Simply upload an image to What the Font or use the Chrome extension to find out the closest match from its database. With this, you can acquire the desired font type with ease and apply it on your own visual marketing campaign!
Google Fonts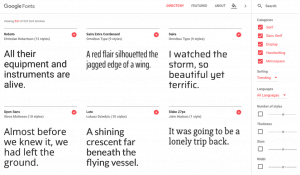 You can also tap on the vast resources of free fonts from GoogleFonts, with a wide variety of fonts to suit each of your needs.
Designermill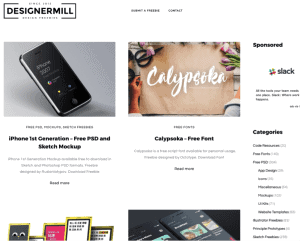 Short of inspiration for your typography needs? Designermill offers a range of fonts for you to draw inspiration from and to explore and discover new fonts for various platforms such as the fonts for your phone applications, business cards, and websites.
Colour
Coloors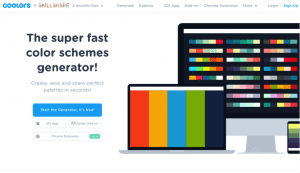 Coloors enables you to churn out the right colour scheme that is essential for any project or marketing campaign. The selected colour scheme sets the tone and direction for the foundation for a seamless design, to project the same look and feel throughout the whole campaign. All you have to do is hit the spacebar to unlock a fresh set of combinations!
Paletton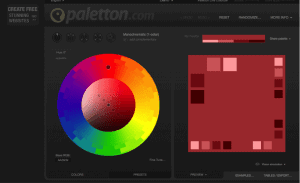 Paletton is a highly useful tool engineered by Adobe, which enables you to select matching colours according to its nature – complementary, adjacent, triads or tetrads. It's the ideal tool for you to unleash your creativity and create the new colour combinations.
Palettab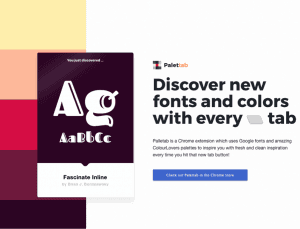 Palettab is an example of how you can discover new colours or fonts daily with the browser extension. This helps to invigorate and stimulate your colour senses, to get inspired by the endless combination of colours.
Design Seeds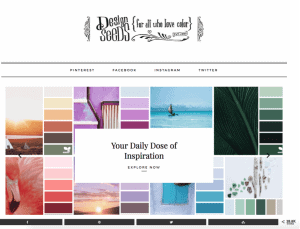 Another way to alleviate your designer's block is to derive inspiration from Design Seeds. This website compiles an assortment of colours and palettes sampled from images, that is tantamount to a rainbow treat for your eyes!
Stock-Free Image Sources
Freepik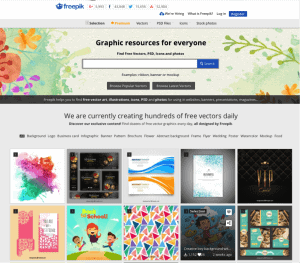 Freepik is the ultimate ensemble of images, vectors, icons and illustrations by a team of professional designers that will give your design for your marketing campaign that extra oomph that it deserves! The diverse selection of graphic resources available is definitely one that you should bookmark for as it will come in handy for all intents and purposes.However, do take note that the resources do require attribution of usage.
iStock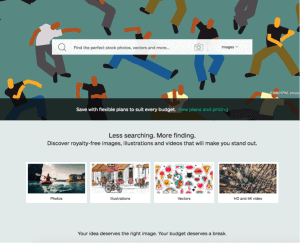 iStock is a personal favourite as it stores an exceptional variety of photos, illustrations and vectors, including high resolution videos for you to choose from. These elements will undoubtedly spice up your design and create the ultimate aesthetics. You can also get an abundance of both inspiration and resources from iStock that will cater for every marketer's need to produce the perfect collateral for your marketing campaign.
Pixabay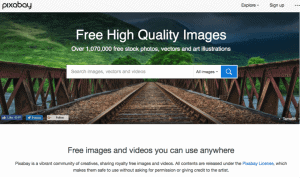 Pixabay offers a substantial library of resources to tap on, and with the ease of use and high resolution photos and vectors that are available, it's no wonder that it's one of the hot favourite tools by designers.
Icons
Flaticon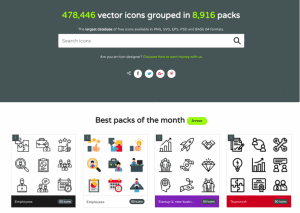 Why use dull texts when you can replace them with the perfect icon for your needs? With the multitude of icons available on Flaticon, you can search for the ideal picture that can bring the design of your collateral up another notch, without having to invest countless hours trying to create the vector that you need.
Video
Animoto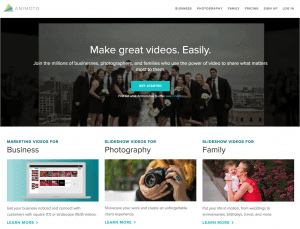 Animoto is perfect when it comes to creating THE video for your business. No video editing experience is required, as you can simply add in your desired pictures, videos or texts in the video. With the array of music available, you can choose the accompanying royalty free music to spruce up your video without having to worry about copyright issues.
Check out the tutorial below to find out how you can create your videos with Animoto:
Magisto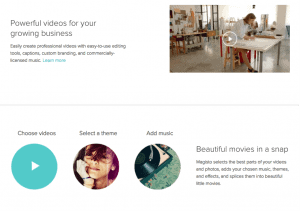 Magisto is tailored for non-techies who wants to create professional videos without getting caught up in the details. You can churn out magically edited videos in just three steps – select video, theme and music. However, if you are looking for advanced features, you could subscribe to their premium service.
Video Scribe
VideoScribe is a tool for creating whiteboard animations automatically. It's the optimal tool to tell your story or illustrate your brand's product and services, which gives the user rights for commercial and resell use. The complimentary 7-day trial allows you to experiment with the software before subscribing on a monthly, yearly or one-off basis.
In conclusion, the role of visual in marketing is increasingly indispensable as social media becomes an integral part of our lives. But without prior experience in design, it may seem daunting to be treading towards unchartered territories of design. However, with the right resources, anyone can build a creative and compelling visual marketing campaign without hiring a designer. By nailing the art of the essentials – font, colour, shapes, you can easily create stunning visuals that are shareable and memorable for your target audience.
I hope this list helped to kickstart your journey to create more aesthetics for your visual marketing campaigns and please feel free to contact us if you have any questions!