Stay Updated With Digital Marketing News & Trends
Why Are Your Leads Running Out?
Can't figure out why you're running out of leads in your digital marketing campaign? The answer may not be the bad economy, or low interest in your product as you would think, but you might find the cause by looking at your customer journey and sales funnel.
We've heard a lot of talk about the customer journey from Google and Hubspot, but how can these lessons be applied to a local context? The first step in doing so is understanding the digital customer's journey.
What Is A Customer Journey?
There are 4 main stages in the customer journey – Awareness, Consideration, Intention and Purchase.
Think of yourself as a customer, you wouldn't wake up in the morning and be ready to purchase something you don't have information about. If you are looking to buy a washing machine, you probably would be looking online for specifications, reviews and promotions before deciding on your purchase. Here's one possible scenario of someone buying a washing machine.
Awareness
John's washing machine has broken down and needs to get a replacement. He uses his desktop to get on Google to search for "best washing machines Singapore". His visited a review website with a list of recommendations and a few forums with a thread discussing the quality of various washing machines. He also visited Brand X's website showing information on their washing machines.
Consideration
He clicks on those links to gather information, but does not make a purchase immediately. At lunch, while John is on the Facebook mobile app, he sees Brand X's sponsored ad and is reminded that he has visited their site. John clicks on the ad and notices that they provide free delivery. He then narrows his options to Brand X and Brand Y and does more research on it. 
Intention
After John did his research, he decides to purchase Brand X's washing machine. John uses his mobile device and goes on Google again, but this time he's searching for "Brand X washing machine sale". The results showed Brand X offering an attractive deal of a 10% discount in addition to free delivery.
Purchase
John clicks on the link and is brought to the e-commerce site. The website is mobile responsive, so he makes his purchase quickly and easily. He also signed up for an e-newsletter with Brand X to receive tips on how to maintain a washing machine.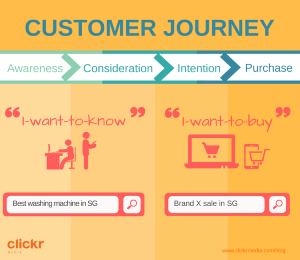 That was a brief scenario of a customer journey. Now let's take a look at how a marketer uses the customer journey to lead customers through the sales funnel.
How Customer Journey Affects The Sales Funnel
The sales funnel (also known as the purchase funnel or conversion funnel) is a process where customers are led to purchasing a product or service. In this funnel are customers in the Awareness, Consideration, Intention and Purchase phases of the customer journey.
Naturally, more people will be at the top of the funnel, where they are unaware of your brand, product or service, compared to people who are at the bottom of the funnel, where they are ready to make purchase from your brand.
Your marketing message has to be customised at different stages because you want to avoid reaching the right people with the wrong message. Customers in the top funnel will not be interested if you have a 10% discount or free delivery because they are not equipped with sufficient information to make a purchase decision.
Top Funnel
At the top funnel are customers in the I-want-to-know moment. In John's case, he wanted to know about the best washing machines available in Singapore.
As marketers, we often place less emphasis on this segment because users in this segment are not ready to make a purchase. But in actual fact, investing budget in this segment increases the longevity of your digital marketing campaign to achieve KPIs such as sales and lead generation.
Ignore this funnel and you will find yourself running out of leads in no time, once your brand matures in the mid and bottom funnel, because there is a lack in awareness where people are researching for solutions and alternatives.
Mid Funnel
The customers in the mid funnel are in the I-want-to-buy moment. They have discovered a product and service, and are considering the brands. These customers are influenced by reviews, convenience, promotions, etc.
Referring to my example earlier, John noticed that Brand X provides free delivery on a Facebook sponsored ad, which swayed his decision to choose Brand X as an option in his purchase.
Bottom Funnel
Customers in the bottom funnel sometimes need a final push to make a purchase even if they are already in the I-am-ready-to-buy moment. This could be in the form of a welcome coupon code or great user experience on website to checkout the shopping cart.
Speaking of shopping cart, did you know the average shopping cart abandonment rate is 69.23%? That's almost 7 out of 10 people who dropped out even though they were in the I-want-to-buy moments. These are mostly web user experience related reasons such as:
The site wanted me to create an account

Too long/complicated checkout process

Website had errors
If you have an e-commerce business model, you definitely need to optimise your web user experience and landing page.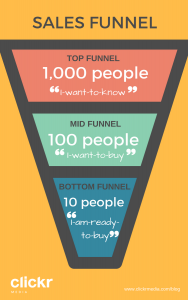 Now that you understand the customer journey online and sales funnel, let me show you how it can be applied in a local context.
Applying It To A Singapore Brand
As an example, I'm going to use the Singapore brand, Xscape Singapore. I chose this company because they offer consumers an escape game experience and have some online presence.
Unlike popular group activities such as paintball or sports, an "escape game" is not as well known to consumers. An escape game requires you and your team to solve mysteries and clues within a time limit to escape from a room.  Since the game requires intensive room setups, companies usually stick with a few themes for a very long period before changing their setups.
These companies face the challenge of creating awareness for their type of service, standing out from their competitors, as well as having repeat customers.
Awareness. Top Funnel
My friends and I were looking for a group activity to have fun together over the weekend. We were out at a cafe discussing ideas so one of us whipped out a mobile device to search for "group activities Singapore" and found a list of suggested activities. We selected a few activities, including the escape game by Xscape Singapore.
Not having done an escape game before, we were curious what it was, so we did our research.
Consideration/ Intention. Top/Mid Funnel
We searched on Google again to find out more about escape rooms. Once we had a better understanding, we searched for "best escape rooms Singapore" and "best horror escape rooms Singapore". We moved from researching what activity to do, to selecting which escape room to go.
In the midst of our research, we noticed many different companies offer the escape game experience. Since we first discovered Xscape Singapore, we looked at their Facebook page to read reviews ex-customers left to help us make a decision on which escape game to try.
Intention/Purchase. Mid/Bottom Funnel
The consideration phase was over a course of 4 days and we began seeing Xscape Singapore ads on Facebook after visiting their website.
We shortlisted Xscape Singapore because it became a familiar brand that seems to have good reviews online. On top of that, they also have engaging videos that made the experience seem interesting. We made the booking on their mobile responsive website, which was easy to navigate.
After our experience at the escape room, we "Liked" their Facebook page to stay updated on new upcoming escape games that they may have.
Had we not discovered Xscape Singapore when we searched for "group activities Singapore" we may not have ended up their customers at all. If Xscape Singapore did not remarket ads to us, we may have forgotten them while researching other brands. If the booking process was complicated and not mobile responsive, we may have decided to make the booking with another company.
So there you have it, the customer journey and sales funnel process applied from a local customer to a local brand.
If you have any questions regarding the customer journey online and sales funnel, please feel free to send them to me at geraldine@clickrmedia.com and I'll be happy to discuss them. Till next time! 🙂
Stay Updated With Digital Marketing News & Trends