In case you haven't been keeping up with the latest Google news, the tech giant plans to end support for Google Analytics, also known as Universal Analytics (UA), on July 1, 2023. Sites using UA will need to switch to Google Analytics 4 (GA4) before then.
This change may come as a shock for many of us since nearly 30 million sites use UA. Luckily, we have about a year left to make the switch. We're all in this together.
Let's look at GA4 in more detail and why you should start migrating now.
A look into the current the UA
End-user privacy is valued more today than ever before.
Regulators, such as Singapore's ​​Personal Data Protection Act (PDPA) and General Data Protection Act (GDPR), are continuously raising the bar for end-user privacy. End-users are also demanding more transparency and control over how their data gets used. Currently, you must receive users' consent before you can use any cookies except strictly necessary cookies. However, Google plans to phase out Chrome's support of third-party cookies in the second half of 2024, while Safari and Firefox already no longer support third-party cookies.
This is where UA starts to lose its effectiveness in today's increasingly cookie-less world.
But what's all this about cookie-less tracking in GA4? It was built to future-proof analytics by leveraging machine learning and statistical modelling to generate helpful insights and fill in data gaps as the world becomes less dependent on cookies.
You also get to know your customers and what they want. For example, a Google Ads integration lets you reach customers with targeted ads, so they always have a positive experience with your business.
Why is it important to set up GA4 now?
Google Analytics 4 has been designed from the ground up with a stronger focus on events, and more user-friendly privacy controls to collect both website and app data more effectively. It's like a whole new world of possibilities. 
If you set it up now, it will help machine learning and AI to more accurately predict user probability, and the data will be more meaningful when you eventually make the full switch. It is best to switch as soon as possible, as 1 July 2023  is when GA4 stops sending data to UA and all the data will go to GA4. The one year worth of data you can obtain now would be useful as GA4 is forward-facing only; which means it can only collect data from the moment of creation. Data cannot be retroactively pulled from UA. 
How is GA4 different from UA?
GA4 was originally supposed to be called "App+Web Property" in beta. The name was then changed to "GA4" because the initial name would mislead people into thinking it was only for websites who also have apps. More importantly, the current UA is session-based, whereas GA4 is events-based.
In UA properties, data is grouped into sessions. Sessions are the foundation of all reporting. A session is a group of a user's user interactions with your website that take place within a given time frame. During a session, UA collects and stores user interactions, such as page views, events, and eCommerce transactions, as hits. A single session can contain multiple hits, depending on how a user interacts with your website.
In GA4 properties, you can still see session data. But now, user interactions are collected and stored on your website or app as events. Events tell you what's happening on your website or app. This could be things like pageviews, button clicks, or user actions. You can also collect extra information about events. This could be things like the value of a purchase, the title of the page a user visited, or the geographic location of the user.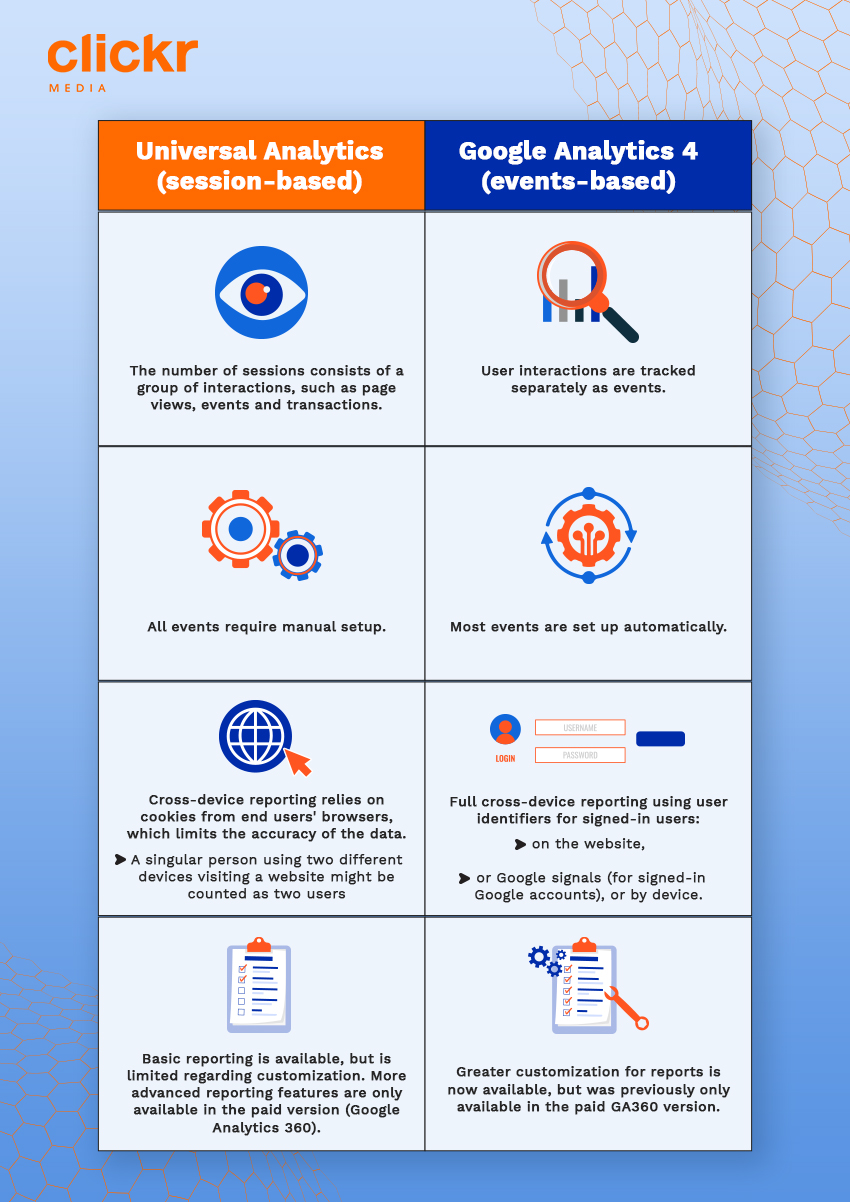 Moving forward, Universal Analytics will cease its operation on 1 July 2023 for standard GA (free plan) customers, whilst for GA360 (premium plan) customers, it will be 1 October 2023.
Types of events in Google Analytics 4
An event is the user's interaction/activity with a web page element embedded on a website and/or mobile app. There are four categories of events in GA4:
Automatically Collected Events

Enhanced Measurement Events 

Recommended Events

Custom Events
Categories 1 and 2 are automatically logged from the Google Tag Manager (GTM) or Global Traffic Manager (GTM) configuration. They do not require any additional coding. Categories 3 and 4 require custom code changes that can be implemented with GTM.
1. Automatically Collected Events
These events are automatically triggered and logged when certain predefined user activities occur. 
Some examples of automatically collected events in GA4 are , and not limited to, language, page location or page referrer
2. Enhanced Measurement Events 
These events are also automatically triggered and logged when certain predefined user events occur. However, events are only logged if you have enabled enhanced measurement. 
Some examples of enhanced measurement events in GA4 are, and not limited to, page view, scroll tracking, or outbound clicks.
3. Recommended Events 
Although these events are recommended by Google, they will not automatically get triggered and logged unless you manually implement them.
However, for a recommended event to work as intended, you must use the same event name and parameter(s) supplied by Google. If you don't, the event may not work correctly, or may not get triggered at all. 
Some examples of Google recommendations on events based on business verticals include adding items to carts, beginning the checkout process, and adding payment.
4. Custom Events
These are the events you can create and use. They don't show up in standard reports and you would need to use a custom reporting system. 
An example is if you want to track internal link clicks on your site. With Enhanced Measurement, you can track outbound (external) link clicks, but you need to use a custom event implementation to track an internal link click.
How to migrate to Google Analytics 4?
Before you can start using GA4, you'll need to create a new property and insert a new code snippet into your website. The UA settings have clear instructions on how to do this. You can choose to have a web developer do it for you, use a website builder/CMS that has built-in support, or use google tag manager (which is the easiest way!).
If you haven't installed GA4, you can implement GA4 in phases.
Phase 1: Create a GA4 property that tracks page views and "standard" events.
Phase 2: Implement KPI related events (e.g. form fills)
Phase 3: Implement e-commerce events
Phase 4: Implement other custom tracking (e.g. non-KPI events, custom dimensions, integrations)
Phase 5: Once data is collected – full implementation audit, and adjustments as required.
Once implementation is completed and GA4 is up and running alongside UA, we recommend collecting data from GA4 for a minimum of one year before switching any reporting (this includes, but is not limited to, custom reporting and dash boarding) over from UA to GA4.
Article's TLDR:
To keep up with the evolving cookie-less future, shifting to GA4 is mandatory. We recommend installing GA4 by Q4 2022 to get a year's worth of data.
One-liner sentence to convince your boss to switch to GA4:
"If we switch to this FREE analytics platform, we'll be able to utilise data more effectively to draw meaningful insights, which will help us make informed marketing decisions based on what our users do at each step of the conversion process!"