As a brand, it's likely that you already have your own website. Being your top marketing asset, a website is an essential in this digital age.
We all know that internet statistics show that there are a whopping 4.17 billion unique mobile internet users in the world. With this, your brand's mobile presence is vital as well.
But beyond having a website that's optimized for mobile view, how can your brand take it a step further?
For a better user experience, apps are great! They definitely take the cake in terms of having more affordances and being more engaging as compared to websites.
While the idea of having your own app is cool and tempting, it may not be the best solution for your business. Instead, why not try exploring progressive web apps?
If you've been keeping up with the latest trends in web development, it is highly likely that you have heard of Progressive Web Apps, or PWAs. PWAs work just like native apps on your smartphone, but accessed from your web browser, and require zero downloading.
Here are some reasons why you might want to consider investing into a PWA.
💻 Your website isn't generating results 💻
And we're not just talking about sales or conversions. Going back to the basics, are people even spending enough time on your page? As customer expectations change, businesses will need to offer more engaging and faster experiences in order to continue to drive growth and revenue.
PWAs are much faster and engaging as compared to websites, doing a better job at capturing the attention of your visitors for longer periods of time.
For companies that wish to convert users from their website to sales or sign ups may find PWAs to be more effective as well.
Pinterest is an excellent example, developing a PWA when analytics revealed that their website only saw a 1% conversion in sign ups and native app downloads.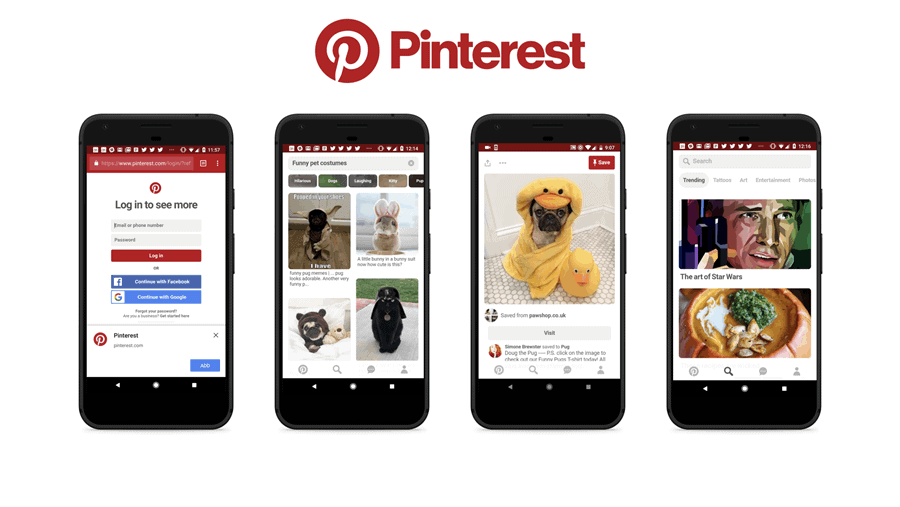 With a PWA, Pinterest saw a massive increment in their performance metrics, with visitors spending 40% more time on the platform, observing a 60% increase in user engagement too!
The end result of improved performance and higher retention rates of visitors definitely makes PWAs that much more effective and appealing compared to websites.
💵 PWAs are more affordable 💵
Taking a look at both PWAs and native apps, PWAs are the more inexpensive ones of the two, requiring lesser time and effort to build. Native apps need regular maintenance and updates which can be demanding to keep up with, especially if they don't serve your business's main function.
PWAs on the other hand are much easier to develop, using only javascript, HTML and CSS.
Regardless of whether it's commitment issues or you just simply wanting to just test the market, a PWA is the perfect alternative to consider.
📱 Getting people to download your app can be difficult📱
Beyond developing the app, getting people to install the app on their phones is a feat in itself. Unless people feel like they have a reason to do so, or see themselves being regular users of the app, the many steps that come with the actual installation process easily deter people from doing so.
So why PWAs?
PWAs afford you the same capabilities of a native app without the need for users to go to the App Store or Play Store before installing it in their devices.
Easily the more accessible one of the two, PWAs are indexed on search engines, making them SEO-friendly and having a wider reach as well.
Optimising the advantages of both websites and native apps, PWAs are user-friendly and progressive, having smooth navigation and interactions that appeal to users.
And lastly, they can be bookmarked on users' home screens, just like an app ✨.
If you're looking to improve your web or digital efforts we would love to help.
Get in touch to see how we can get started!