It's not every day that you get brands that are open, allow you to push the limits on your creativity, and are exciting to work with Ferrari or Coca-Cola.
Oftentimes, you just get products like household appliances or other daily essentials, and you're tasked to come up with excellent marketing campaigns for them.
So… how then would you spark interest in a 'boring' product category?
It all comes down to research and execution. Being awe-inspiring, emotional, or surprising isn't easy, but if it starts conversations, that's already a win in our book.
Great campaigns often make people think about issues they haven't thought of before, or lets them view your product in a different light. And to do that, it helps when you make your product highly relevant to them!
A campaign for Philips' blenders did just that, with a creative execution that hit it out of the park.
???? The Creative Idea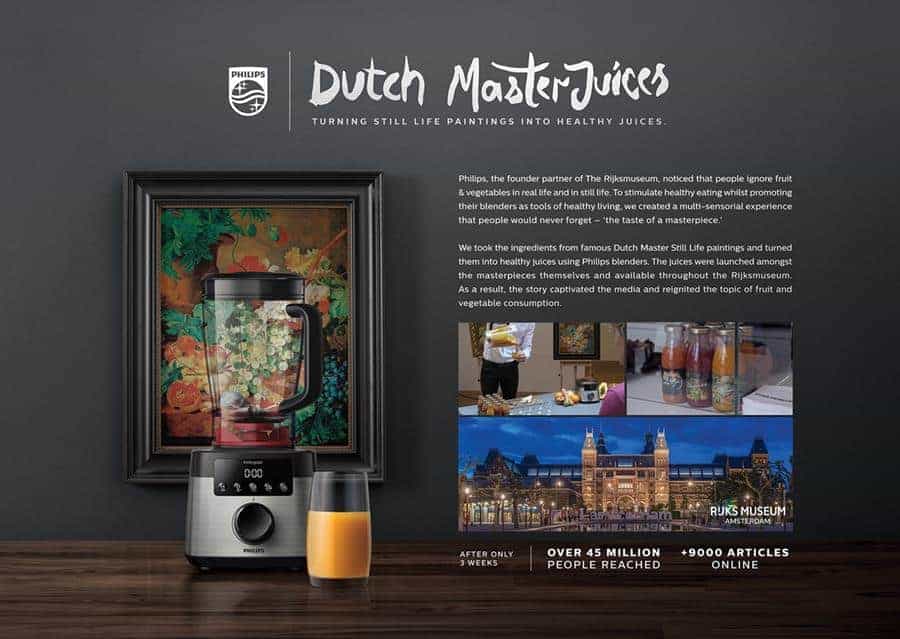 We're no stranger to fast and responsive websites, and chatbots are no exception.
The idea stemmed from the observations that Dutch people still aren't eating enough fruits and vegetables. In fact, they seem to ignore these products in both real life and in still art. Using this, Philips wondered: "Would people notice if this crucial part of our diet was taken away?"
And with that, the creative concept for the campaign was born! Phillips partnered with the Rijksmuseum, a Dutch national museum, to 'remove' fruits from famous Dutch still life masterpieces, and captured people's priceless reactions to seeing the not-so-familiar works of art!
Evidently, it just isn't "Still Life with Flowers and Fruit" anymore without the fruits: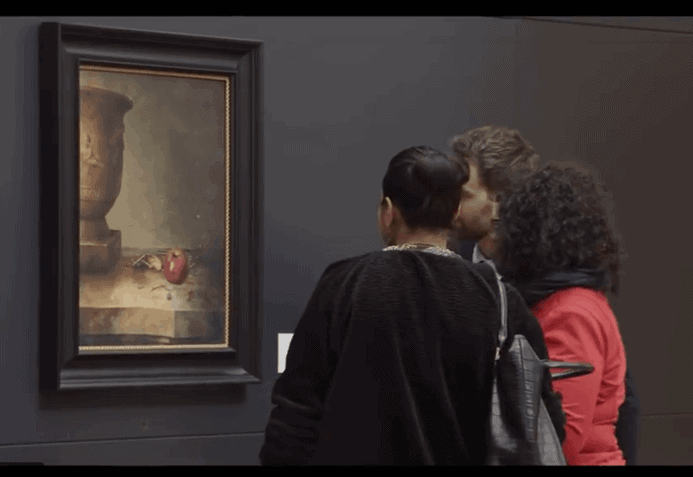 Visitors saw versions of the painting with fruits removed, as well as a fake museum attendant who removed an apple from a painting and put it into a juicer!
Everything was filmed on-ground, and uploaded online as part of a social strategy.
Philips also shared a series of 'How-to' videos online, letting people recreate the famous juices to "taste a masterpiece."
The result? More people were inspired to make healthier choices, with over 45 million people reached after 2 weeks and over 9000 article mentions online!
This is the perfect example of how crafting a refreshing creative strategy for your marketing campaigns doesn't necessarily require an interesting product, but rather, requires looking at the product from a different perspective and finding something that would resonate with your audience.
If you're not sure where to start, here are some tips that could help!
???? Make your product visually interesting
Showcase your product in a bizarre way, one that goes against the grain.
Try propping it in a colourful or unique setting, or featuring it from an angle nobody's seen before.
For example, if your product is superglue, don't just go on and on about its sticking ability.
Show it in an interesting or dramatic way, like having a man hang upside-down from the ceiling, or prop it up against a weightlifter with the caption, "only one doesn't break."
???? Find the central truth about your product, and tell it to your audience
It's tempting to try and prop up your product with flowery language, but telling the truth is an approach that can be honest and funny at the same time.
Speak to the audience that needs your product, and focus on portraying a unique, fun side of your product that'll solve a problem for them. Think of questions like: "Do people buy flowers because they're pretty?",  or is it really to appease their special someone after a fight?
You could follow the footsteps of a famous Avis campaign from the 1960s, which ran like this:
At the time, Avis was the second-largest car rental company (behind Hertz) in the U.S., and needed a strategy to convince people to shift their loyalties to them instead.
Instead of trying to claim the number one spot on the market, they turned being number two into their strength.
Avis focused on the things they simply had to do better when they're only number two, like providing faster customer service or friendlier staff. After all, you can't afford to be complacent when you're only second-largest.
And in this regard, number two was a better claim than number one.
By stating the truth — "We're number 2, so we try harder", they carved out a spot in the market that only they could fill!
Truth in advertising is still relevant today. Ask yourself: what desires, emotions and fears do your product stir up amongst people? Tread these waters, and you'll eventually discover a human insight, which will help you craft great campaigns.
For example, Nike's "Find Your Greatness" campaign was based on the insight that it's not just athletes that strive to break limits, but the everyday person as well.
???? If all else fails, inject some storytelling
People need context to understand why your product matters, so the key to selling your product is to make them realise that your product has a direct impact on their lives. In other words, would their lives go on as per normal without your product? Can people really survive without their Subway sandwiches or Ya Kun kaya toasts?
Find a way to dramatise the story behind your product in a surprising way, and you'll grab people's attention while showing the relevance of your product to their daily lives.
One example would be Coca-cola.
We all know sugary drinks are bad for you, but the brands doesn't try to advertise lower calories or sugar. Instead, they focus on stories surrounding celebrations and good times.
You might have noticed that they also occasionally collaborate with sports brands to capture the feeling of youth and vitality that's so often associated with them! The truth is: Stories that relate to people stir up emotions, and these emotions stay with people for longer.
While not all of us might end up creating Cannes-worthy campaigns, whatever your product is, you'll always find a way to get people excited if what you're doing is interesting to them.
So go ahead and disrupt the traditional way of doing things!
That's all for now! We hope we got your creative juices flowing with this article, if not, we have some to spare. Need some ideas on how you can spice up your next campaign? Your competitor's market share getting you down? Got a great product that you know would sell if people just knew about it?
Get in touch with the most creative minds on the 6th level of Delta House! In the meantime, take a look at some of our past works for a little inspiration.