Stay Updated With Digital Marketing News & Trends
Do you wonder if your Google Adwords campaign is running optimally? An Adwords campaign that is not set up optimally could lead to inefficient use of budget. Run through this checklist of 12 items to see if you are missing any important setups in your campaign.
1. Linked Accounts
Connect the website's

Google Analytics account to Adwords

in order to import site metrics such as "Bounce Rate", "Average Session Duration", "Google Analytics Goals". Data will be shown on both Google Analytics (GA) and Adwords.

Data are shared across GA and Adwords ie. The same metrics can be viewed in both GA and Adwords.
2. Conversions Tracking
It is crucial to understand if your marketing efforts are paying off.
Each campaign should have at least 1 Conversion goal:
Website – set up using

Adwords conversion tag

or imported from GA goals

App – via a

code snippet

added to app

Phone calls – Forwarding number service (e.g. Hoiio)

Import – upload offline data (e.g. emails) or from another source (e.g. CRM)
Do also make sure that your tags are installed correctly and can be detected by the respective systems.
3. Networks
Uncheck "Include search partners" (default setting) and check "Google Search Network" if you want your ads to appear on the Google search engine only.
4. Devices
Ensure that your site

works well on mobile

, if not it is possible to exclude mobile devices

You can also adjust your bids to be higher for desktop/mobile devices if that platform is bringing you better traffic/returns
5. Targeted Locations & Language
In most cases, you will only want to target people physically located in the area of interest.
Target "People in my targeted location" and not "People in, searching for or who show interest in my targeted location" (though this is the default and recommended setting), to reach more relevant audience. However, do note that your audience size will be smaller.

Similarly, you can also set an exclusion list depending on your campaign.
6. Ad Scheduling
If you are advertising for a physical shop that has specific operating hours, you might wish to only show your ads when the shop is open. This is mostly done for time sensitive campaigns, campaign optimisation or when customer service is not available. You may also schedule hours and day of the week.
7. Ad Delivery
The default method is "Standard", which spread out your daily budget across the day so that your ads have a chance of appearing throughout the day. You may choose "Accelerated" if you want your ads to appear as long as there are people searching. This may result in your daily budget being depleted early in the day if there are high search volume.
8. Ad Rotation
Would you like the algorithm to optimise your ads to "Rotate: Show ads more evenly" or "Optimise for Clicks/Conversions"?
The former will be better if you are doing A/B testing want a more balance split of traffic impressions. The latter will be useful if you have gathered enough conversions for the system to be more accurate in picking searches that are more likely to result in a Click or Conversion
9. Ad Extensions
Gives you more ad screen estate and provide more relevant info to searchers.

Ensure that as many extensions are populated and turned on.

Recommended ones are

Callouts

Sitelink

Call

Location
Here's an image example of a structured snippet.

10. Negative Keywords (Search & Display)
Are there searches that you do not want your ads to show up for? eg. you can include "jobs", "training", "course" etc if you are not offering employment. You should also review your Search Terms report regularly (at least once a week) to weed out irrelevant and poor performing searches or add winning keywords.
11. Negative Placements (Display)
It is possible to exclude general categories of website or specific sites that you have identified.
Mobile apps are included by default and they have shown to perform badly. Under the "Targeting" settings in Adwords, you can add "adsenseformobileapps.com" as a negative site placement, so your ads do not appear on mobile apps.
You can also add "anoymous.google" to the negative site placement as it refers to sites that Google is unable to provide information, thus you are unable to evaluate the site's performance.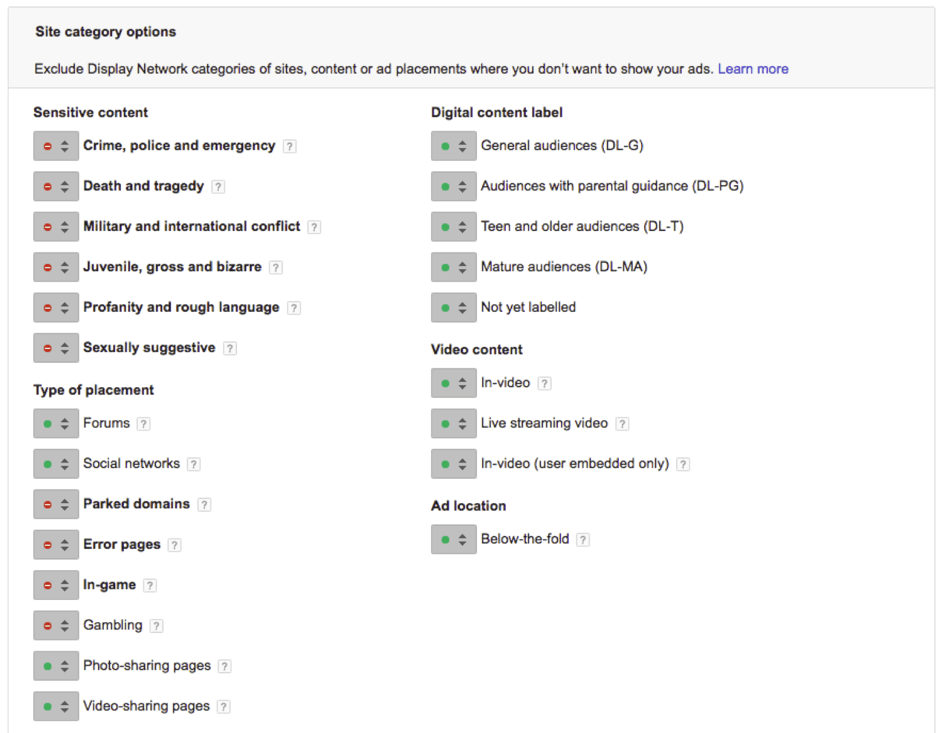 12. Budget
Ensure that the following are set accordingly:
Budget Order – the "account limit"

Campaign Daily Budget – each campaign can have their own maximum daily spend.

Ad Group max bid – all keywords in an Ad Group shares the same default max bid

Keywords individual max bid – if necessary, you can manually set a maximum bid for each keyword. A common practice is "tiered bidding", where you bid higher for Exact Match than Phrase Match/Modified Broad Match.
I hope you've found this checklist useful. If you need help with your Google Adwords campaign setup, click here, drop us a call at +65 6566 9556 or enquiries@clickrmedia.com. Cheers!
Stay Updated With Digital Marketing News & Trends