Stay Updated With Digital Marketing News & Trends
Creating a Facebook strategy that works for your brand involves a complex web of considerations, limitations and budget balancing. Questions like what kind of content should we producing or what kind of metrics should we be tracking are all highly dependent on the brand and there's no one-size-fits-all solution!
But we're here to put your mind at ease and show you some answers to these questions so you can decide what's best for you.
Determining Objectives
If you've ever taken a class on marketing, then you know that the first step of a marketing plan is deciding on the objective. Sounds simple enough, but what kind of objectives should you set? When it come to social here two main objectives, brand awareness or lead generation.
Brand Awareness
Brand awareness can be very tricky to measure especially for smaller businesses who may not have the budget for advanced social listening tools. To put it simply, brand awareness is about how many people are talking about your brand, know about your brand and are looking out for your brand.
Because brand awareness encompasses so many different aspects, it's more complex to track, and it also involves quite a few metrics. Instead of starting with what metrics you want to measure, think about your campaign's approach and match it with relevant metrics. Here are some examples of what that can look like: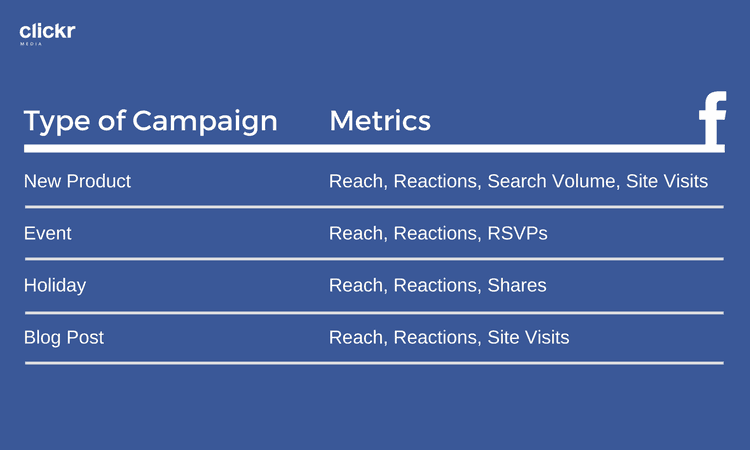 Lead Generation
Lead generation is a lot more straightforward. Run your campaign and you can judge its success based on the orders you've received, enquiry forms filled etc.  
Typically, this is on the top of every marketer's mind. It's easier to justify ROI, you can actually gain leads, and it leads directly to money in your pocket. However, the more experienced marketers will know that brand awareness campaigns are equally or if not just as important as lead generation campaigns.
You can't sell to people who don't know your brand or product. And before you say "I want a campaign that does both!" it's important to realise that a campaign like that will be unfocused and will not achieve optimal results.
Staying on top of the minds of your audience is paramount, and that's what social media can provide. Perhaps some one who saw your post might not have needed a vacuum cleaner then, but that could change in weeks, months or years! Maintaining top of mind is going to then increase the chances your brand will be in consideration when the time comes.
A Note On Fan Growth
Fan growth can sometimes be seen as an objective or a metric depending on the circumstance. But it has lost some meaning as an objective in recent years. You can rack up fans easily enough with page like ads, but in truth fewer than 1% of your fans will interact with your page.  
Facebook also restricts organic traffic as well, and as a result, it's much more efficient to pay for reach rather than to get new fans. Instead, focusing on optimising interactions will allow non-fans to see your content when their friends, who are your fans, interact.
The Content Plan
The next thing to tend to for your Facebook strategy is what to actually publish and how. A content plan is an essential part of managing your social media page and will continue to serve as a guideline for your brand. Here's what you need to include:
Audiences
Determine your target audience personas. Typically your personas should range from 2-4, try not to go beyond that or you'll start to risk unclear messaging.
Personas are summaries of a type of audience. For example if I were selling board games, my target audience might be families, teenagers and enthusiasts. Developing a persona means imbuing your audience segment with a personality.
For example, Joe the family man who's probably 28-40, likes sports, grew up on old board games and wants something he can play with the family. Knowing your audiences in this way give a face to the audience you're targeting and allows you to speak directly to them when crafting your post and content.
Again, each post should speak to a single or up to 2 personas to reduce muffled messaging. Don't expect each post to speak to everyone. Remember, you're trying to polarise and provoke a response from your target, and you can't do that if you aren't speaking directly to them!
Content pillars
Content pillars are the types of content you produce. When determining your content pillars, it's also important to keep in mind which persona each pillar will speak to. You can typically speak to as many personas for each pillar, just be sure to change the messaging to fit the audience.
Using the boardgame store as an example again, board game reviews as a pillar could speak to Joe the family man, but a live show on thursday afternoon featuring the latest card games could appeal to teenagers more.
Here are some common content pillars most brands will be able to leverage off of:
Product reviews

Testimonials

Inspirational/ Industry quotes

Behind the scenes content (how your products are made, sourced, and the inspiration behind them)

Employee features

Curated content (Reposted content from publishers or your fans)
This are just a handful of pillars that are quite easy for most brands to dive into to kickstart a proper strategy.
You can then structure your chosen pillars to certain days for example Review Fridays or Motivational Mondays so people know what to expect and fans will look out for your content. It's also much easier to plan monthly calendars when you have set content for a few days in place.
Themes
Another way you can structure your content is to post thematically. Some brands carry a variety of products and feature a different product type every month. This approach is great for brands that already have a release calendar worked out for the year and you can plan in advance.
This also tends to lead to a more structured monthly plan because your objectives will be determined easily. For example October might be a great month to push horror themed board games because of Halloween. Then all the content for the month could be themed, reviews can be done on the appropriate games, and we could even feature employees in their favourite costumes.
Formats
There are plenty of ways to present your new content, and choosing one is going to be very dependent of the context of the post.
Images
Images are a great way to showcase products, services or your company. Most importantly, it should compliment the message of your post. For most pages, this is going to be the staple format because it's one of the easiest to produce. You should never post a plain text post unless you want your audience to never see your content.
Images are a magnet to draw attention to the post where you hit your audience with the message. You can also produce a ton of photos over an afternoon of shooting so it gives you plenty of content in a short time.
The main problem with photos is that you cannot compromise on production quality. Unlike videos where you can get away with some unpolished production. Bad photos and images will be glanced over and dismissed easily. If you can't use professional photography, you can use some stock photos, where appropriate, or create your own graphics on free platforms like Canva.
Videos
Videos are a very interesting format because they can be the most expensive to produce, or even the cheapest and easier to execute than images. Traditionally it's going to cost you plenty of money to produce videos professionally, but they don't all have to be done that way.
The rise of formats like Instagram stories and Snapchat's non-permanent format have softened up audiences to a raw unedited video format.  Videos showcasing products are most likely going to call for professional help, but interviews, seminars and quick behind the scenes videos  are great non-edited, especially if you do them live.
Video also gets a lot more interactions and reach than regular posts and you can cut some of the cost by reusing assets. You can extract quotes from the video, create gifs, and use stills from the video as images. That's already 3 other pieces of content you can create from 1 video!
Frequency & timing
Another question most people like to ask is how often they should post. Ideally, you want to post once or twice a day. But if you have budget constraints, that could be a rather tall order. But if you're strapped for time and cash, you should schedule a minimum of at least 3 posts per week to keep up with appearances.   
Generally, you should also post the maximum of twice a day if your fan base is lower than 10,000 as posting more will reduce the number of click to posts due to Facebook's algorithm and according to this report from Hubspot.
Optimisation strategy
The last part of your social media strategy should be about looking forward. There are just too many factors at play, and the landscape is by nature unpredictable!
That said, there can be some things you can do that work well with your audience. Always have something you're testing out every month, whether it's a different format, audience type, or content pillar. Tag your posts on an excel sheet so you can easily compare results at the end of the period.
Social media is an ever changing landscape, and new additions and adjustments are constantly being implemented. While the same thing that has worked before might not work for you again, the reverse is also true. Don't neglect relooking at some failed formats every once in awhile.
I hope you've found this article useful. If you need help with your Facebook marketing campaign, click here, drop us a call at +65 6566 9556 or enquiries@clickrmedia.com. Cheers!
Stay Updated With Digital Marketing News & Trends
Looking for social media ideas or strategies?
Check out our comprehensive guide of 46 Advanced Tips For Running Your Social Media Channels & Campaigns. We'll go through come of the techniques we use ourselves with an easy instructional format and it's also filled with local case studies!