Crafting and creating content has become an integral part of many companies' marketing strategies. However, many marketers are on the fence about content marketing because they are doubtful that it'll actually improve their sales.
Singaporean entrepreneur Krystal Choo also questions the ability of content marketing to convert.
And if you face the same query as her, you are not alone. Because research shows that 93% of marketers are using content marketing, but only 9% thinks it's effective.
Well, it's true that content marketing doesn't produce results immediately, but the good news is that content marketing helps to sow seeds to be harvested later.
Let's take a closer look and examine how content marketing actually helps your business and how you can better leverage content marketing to improve your digital marketing strategy.
What is Content Marketing?
According to Content Marketing Institute, content marketing is defined as "a marketing technique of creating and distributing valuable, relevant and consistent content to attract and acquire a clearly defined audience – with the objective of driving profitable customer action".
Unlike traditional marketing, inbound marketing strategies like content marketing focuses on the creation and distribution of valuable content to customers – to attract and establish a loyal base of audience that will convert into potential customers.
"Content marketing is as much about relevance as it is about reach"
– Pete Markey, Brand Communications and Marketing Director at Aviva
Some of the main content marketing channels include:
– Youtube
– Instagram
– Tumblr
– Podcasts
– Apps
– Email campaigns
Why Does Content Marketing Matter?
Content marketing works its way to support your marketing mix by creating valuable content to establish an audience that wants to consume and share the content. With the sheer volume of marketing messages sent daily, consumers are subconsciously tuning out traditional advertisements and getting immune to the conventional methods of "hard-sell".
It's no wonder that consumers are increasingly savvy on installing ad-blocking software as up to 615 million devices are installed with ad-blocking software, and this trend is only expected to continue exponentially. It's no longer about merely sending your marketing message out, but capturing the attention of your prospects.
You may have heard this highly-quoted statistic that 67% of the customer journey is complete even before a buyer reaches out to sales (Sirius Decision). We have to acknowledge that content marketing is the future of marketing that helps brands distinguish their voice in a highly competitive market. And in the foreseeable future, this might be just be the key driving force of demand generation you want to capitalise on.
Once your prospects are faced with a problem, for 72% of buyers will turn to Google to explore the options available. In a similar vein, 48% of consumers expect brands to help discover new products and services that fit their needs. By providing valuable content that resonates with your customers, it enables you to leverage crucial decision-making moments by offering consumers a viable solution that addresses their concerns.
Today, consumers are armed with a smartphone and the privilege of searching for information on the Internet with ease. With content marketing to create content that caters to prospective customers, it allows information to find its way to consumer's heart and ultimately influencing their decision-making process.
How Does Content Marketing Eventually Drive Sales?
Create Brand Awareness
Brand awareness is an indication of how well your brand is known within its target markets. But before you can depict a good impression of your brand, you need to ensure that your customers are aware of your brand and its value. With content marketing, it enables you to weave in your brand's value and what it stands for while communicating useful information for your target audience – be it for B2B, or B2C marketing.
For instance, if you are trying to promote an IT software to consumers, you can create content to help identify your customer's needs and how your product comes in to fill in the gap. By leveraging on platforms like online advertising or social media helps to increase visibility and expose your brand to potential customers. This way, you can build top of mind awareness through repeated exposure and this will help customers to think of your brand when they require a product or service from you.
In a Moz blog post, Bridget Randolph identifies these various phases of developing consumer awareness:
– Create awareness of the need/problem
– Demonstrate the basic solution to the need/problem
– Selling your solution and your brand as the best solution
Businesses who managed to cement their brand awareness amongst their audience find it easier for market penetration as consumers tend to associate themselves with brands that they are familiar with. So the more your prospects are aware of your brand and the values you stand for, the closer you are to derive potential sales.
As such, content marketing serves as the bridge to tell your brand's story and create robust brand awareness amongst your prospects. This helps to reinforce that your business is not only a brand that sticks around, but instead a brand that communicates useful information while engaging with your customers.
Educate Prospects
Now if you are putting up a notch if you can make your prospects feel like they learnt something informative. The marketing environment is constantly evolving, and consumers are looking for original content that actually educates them and value-adds instead of an empty vessel.
But educating your prospects about your products and services alone is insufficient. Include your unique selling point that differentiates you from your competitors and offer content that incorporates your expertise and experience. By sharing your point of view and how you have impacted your clients and/or businesses that you have worked with, it might inspire others to take action to request more information on your business.
The old adage, knowledge is power rings true with the Internet and consumers are able to search for information pertaining to any brands anytime, anywhere. This allows customers to make informed decisions about their purchases and determine the right solutions to their problems.
However, in order for the right information to find its way to the customer, marketers need to ensure that the resources they provide online (on websites, blogs, social media) is relevant and useful to the consumer. The crux is to create content that consumers WANT to consume, rather than AVOID.
Drive Traffic
You may have heard this before, but how does content marketing drive your web traffic?
Well, coming directly from the horse's mouth, Google uses three main factors to determine search engine results, specifically:
Links: The links that appear on third-party websites, and those that lead back to your website.
Content: The words, images, and code that appear on your website.
RankBrain: Google's artificial intelligence program that is teaches itself how to process search engine results continuously.
The first two factors – links & content correlate closely with content marketing. In other words, by engaging in content marketing effectively, it helps to boost your ranking on search engines too!
Now, instead of being constantly on the receiving end of marketing messages, consumers are actively seeking information that fulfils their needs and concerns via the Web. If you manage to deliver valuable content that delivers, not only will it attract qualified traffic (visitors with a higher possibility of converting to leads), but search engines will also index your pages higher, producing better search results on search engines.
Content creation should also be complemented with search engine optimisation for it to create a substantial difference. Because unless your content is optimised for search engines, your content might not be able to reach consumers effectively. So if content marketing alone is not working out for you, perhaps it's time to invest in search engine optimisation efforts to enhance the visibility of your brand's content.
Foster Relationships Digitally
Gone are the days when marketers can convince consumers easily with persuasive techniques, or attractive ad jingles or tv ads. Instead, consumers look for brands that are able to connect with them.
To scale the relationship mountain, custom content tailored to your audience serve as touch points to bridge your brand to your consumers. If your content resonates with readers, it enables prospects to humanize the perception of your brand.
Apart from conventional methods of marketing your product or service, you could explore the option of leveraging on content marketing to market a lifestyle instead. This helps you gain more traction through the online buzz as people start to develop interest over adopting a certain lifestyle relating to your brand.
An iconic example that exemplifies this would be Nike's content marketing strategy, where it hinged on the concept of women empowerment. Steering away from the stereotypical image of women in heels and makeup, Nike appeals to its female audience by inspiring women to conquer the world with sports.
By incorporating the values that your brand stands for in your content, it sparks conversations and ignites the desire for consumers to be a part of your brand and differentiate itself from the sea of competition.
Leave the Window of Option Open
Even though generating sales is important, the time and attention gained from consumers is equally important. In content marketing, it works best when conversion is optional. The content created should aim to entice visitors to consume your content regularly, instead of forcing them take action in exchange for your content.
An example of free content could be an infographic, a collated list of statistics, or a recorded webinar that they could watch without any pre-requisites to subscribe or register. Instead, the decision to subscribe or register should be kept open to the visitor to determine if he/she wants to receive your content continually.
In essence, the key is to create valuable content that is relevant to your customers by presenting them an option of taking the next step to register or subscribe. Even though the chances of conversion are not definite, but the probability of your visitors leaving with a better user experience is much higher (without the subscription pop-up) helps create a positive brand impression.
How Should Content Marketing Success Be Measured
At the end of the day, as with any campaign, the burning question on top of your mind would be: "How do I know if my content marketing strategy is working?"
The process of weighing the effectiveness of your campaign may be daunting due to the plethora of metrics available. But fret not, because here are some key metrics that you can work with to evaluate the effectiveness of your plan.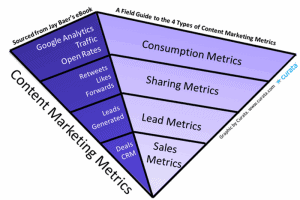 Consumption Metrics
This is one of the primary metric that you should be looking out for, as it's an acute data point that helps you understand how well your content is consumed and how traffic is derived to your content, i.e, what are the channels that they used to access your content? You should also monitor the frequency of each visitor's visit and how in-depth is their consumption, and you can easily analyse these data through Google Analytics.
Basic metrics to take note in Google Analytics:
Traffic
Referral traffic
Time-on-site
Time-on-page
No. of downloads/ views
Sharing Metrics
With sharing metrics, we are attempting to measure how successful your content is, in terms of engaging with its consumer base, as determined by the number of retweets, shares on Facebook, LinkedIn Google+, etc. It's essentially an indication of how much love and affection your content is gaining from your content, while fostering a budding relationship between users and your content.
By tracking content pieces that are being shared, you can also identify the type of content (topic, content format, average length of content) that resonates with your readers, and apply the insights to modify your content strategy in order to suit the preferences of your users.
Basic metrics to take note in Google Analytics:
Average time on page
No. of pages/ session
New visitor vs Returning visitor
Referral traffic
Lead Metrics
According to the Content Marketing Institute, sales, lead generation and lead nurturing are the top organisational goals for content marketers, hence, you certainly do not want to miss out on gaining critical insight from lead metrics.
Leads can easily be measured by tracking the origins of a lead, such as a blog post or video, or email subscription rates via Google Analytics. This enables you to understand how content is supporting demand generation through lead generation and lead nurturing (mid-funnel).
Basic metrics to take note in Google Analytics:
Goals Completion (newsletter signup, contact form completion)
Goal Conversion Rate (total no. of goal completion / total no. of sessions)
Sales Metrics
Now that we have got the foundation laid out, it's time to monitor if the content marketing efforts are translating into financial gains.
But to produce sales metrics, you'll need to integrate your marketing platform and CRM system (e.g. SugarCRM) to track user behaviour throughout the sales cycle. This indicates the type of content that successfully influenced the prospect, and eventually culminated in the sales deal.
In order to drive sales, you should monitor the relevant metrics clearly to help you track your progress. Only by capturing the relevant information, you will be able to improvise your content strategy timely and convert prospects into customers.
In conclusion, content marketing makes up the building blocks of creating awareness and presence in your digital marketing plan which is critical in the long term. Even though it may not seem to drive sales in a short time period, but it is worthwhile to embark on this journey as it invites people in to have a glimpse of what your brand has to offer.