Instagram, Twitter and Facebook may be spearheading the face of new media era, but the conventional email still trumps when it comes to helping businesses generate new leads and increase sales.
Furthermore, research has also shown that consumers in Southeast Asia prefer to receive promotional offers via email in comparison to other methods such as social media and text messages.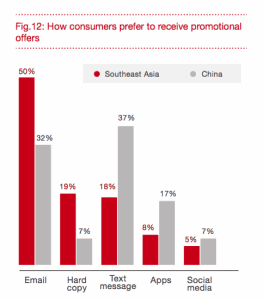 With an email campaign, you are connecting with customers and prospects who have consented to receive your content. This means that they are interested and receptive to your ideas and what you have to offer.
However, with over 144 billion emails sent each day, how can you set yourself apart from the rest of your competitors? Deploying a successful email campaign isn't an easy feat, yet when it is pulled off well, it can be the optimal channel to generate leads for your business.
If you just started venturing into email marketing, here are some useful tips that might help you in your quest to create a successful email campaign, and fret not for the experienced veterans, because you may have inadvertently overlooked a common practice that might significantly boost the performance of your campaign.
Here are some key factors to take note of when devising your email strategy before diving head-first into it.
1. Segment Your Target Audience
Firstly, segment your target audience by breaking them into more specific, niche customer groups so that you can deliver customised messages to them.
For starters, you can segment your subscribers as such:
Customer list, Leads, Prospects
Product Updates
Email Frequency (Weekly, Fortnightly, Monthly)
Age
Demographics
Interests
You may ask, "why do I need to go through the trouble of segmenting my contact list?" The answer is simple. The more that a message is directly targeted to a group who receives it, the better it will perform.
By segmenting your subscription list, it gives you the liberty to facilitate a more targeted communication. When marketing messages are tailored to a specific audience, customers are more likely to respond to it than a generic message that is created for an email blast.
For instance, some customers might want to receive news about product and sales update, while some are only interested in new product launches. You could also send personalised emails to welcome new subscribers or reach out to those who did not open your last email to find out why.
Only with segmentation, it enables you to refine your messages for smaller groups of audience and be in control of the content and who you are sending to.
It takes time and effort to invest in segmenting your audience, but a little effort goes a long way to distinct you from your competitors!
2. Conduct Regular A/B Testing
An A/B test is simple test between two components of an email against each other (while the remaining factors stay constant),  and presenting the one option to one randomised segment of your audience, and the alternative to another segment of your sample audience to see which performs better.
For example, you could divide your subscribers list into two sample segments and test with two different email subject lines to see which has a higher open rate. Note that at any one time, you are only testing one element of the email, which in this case – is the subject line. Doing A/B testing helps to determine which subject line to send to the rest of your subscribers and provide insight for your future campaigns.
Apart from subject lines, you may also test the following:
Subject lines
Day of week to send
Time of day to send
Email creative and layout
Email tone
Personalisation
Well, you might say that you understand what works best for you in your industry, but the marketing landscape changes constantly. Consumers might prefer the use of images or mere texts in the emails or perhaps be triggered to open the email because of certain words in the subject line.
Hence, A/B testing helps marketers like you and me to stay informed about audience preferences, which influences the engagement level and campaign effectiveness. By conducting regular email tests, it gives you the competitive edge over your competitors.
While they are assuming the status quo, you are kept abreast of the changing consumer preferences, which will up your email marketing game to the next level.
3. Do Not Neglect Your Subject Lines
The subject line is the first thing that email recipients see before they open your mail. Needless to say, your subject line is critical in influencing users to decide if they should open your mail. Therefore, it's critical for you to craft a compelling subject line that will emerge from the cluttered inbox and make readers feel convinced to open your email.
In addition, a research from Campaign Monitor shows that emails with personalised subject lines are 26% more likely to be opened. Even though readers understand that email campaigns are blasted to everyone on the mailing list, but going that extra mile to personalise your email to your readers will make them feel that they are not just that additional name on your mailing list.
For instance, if you receive a message that says "Dear Joel" instead of an impersonal "Dear Customer", it helps to inject that sense of human touch to the automated email blast for recipients.
Another quick tip for optimising subject lines is to take note of the length of your subject lines. Ensure that your subject line is short by keeping it under 5-7 words (i.e, around 40 characters).
As mobile email accounts for 20-75% of email opens, your customers (B2B/B2C alike) check their emails on mobile regularly. So make sure that the crux of your message is placed in the first few words, and the length of your subject line isn't too long in case it gets cut out on the mobile display.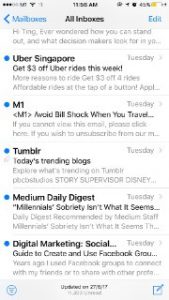 Most email clients also tend to display a snippet of content such as the preheader, to help offer a glimpse of the email content. This influences the reader to open the mail or otherwise, and this affects your "open rate".
Thus, be sure to encapsulate the essence of your email into a short phrase that is attention-grabbing, yet not overtly promotional or salesy.
4. Ensure Visibility Of Social Media Buttons
With the prevalence of social media, you would want readers to share your content on social media platforms.
Ensure the visibility of your social media buttons – Facebook, Twitter, LinkedIn, so that it facilitates your readers to share the content and extend it to their social circle. This helps you to circulate your content to a wider audience and increase the opportunity to generate more leads.
This is further reiterated by the statistics from email provider GetResponse, as social sharing buttons improve email click-through rates by 115%.
By simply including the social widgets and any appropriate links as shown below, it improves the ease of sharing content, and even initiate readers to share with their social following.

5. Position Your Call to Action (CTA)
The call to action is presumably the most important component of your email as it provides clear direction on what you want your readers to do next. Some marketers might aim to gain readership of content, while others want their prospects to take up an offer.
Also, there is a preconception that there should only be one CTA button or link on a page. However, not only does having multiple CTAs help to open windows for readers to take action, it allows you to learn more about your audience's browsing habits.
For example, if a reader constantly clicks on technology related content instead of finance content, it reveals the reader's interests and inclination towards certain topics. This enables you to gain deeper insight on your subscribers' habits and how to tailor your email strategy accordingly.

The above is a sample from Clickr's newsletter that illustrates how to integrate the call-to-action button and hyperlinks together to help direct readers to the landing page.
As such, the call to action button should be strategically placed in a prominent place, in order to prompt readers to take the intended action. This could be in the form of a button or a link, to direct readers to the desired website.
You should also pepper the link throughout the email (e.g, create a button to the landing page or link phrases like "Click Here to Read" or evoke the reader's sense of curiosity by asking questions like "Are you curious about 'mobile email usage statistics'?").
This helps to direct readers to take action, increasing the chances of them accessing your page, which is always a plus!
6. Find Out Your Ideal Timing
If you want to optimise your email campaign, sending your mails at an impeccable timing brings you a step closer to success.
Well, you wouldn't want your email to be lost in the hustle, so the general consensus is to avoid Mondays and Fridays where your readers might be swarmed with emails that have flooded in during the weekend or when they are all prepped for the weekend.
Statistically, MailChimp suggests that Tuesdays and Thursdays are the two popular days to send email newsletters. And 10am would be the optimal send time as shown below.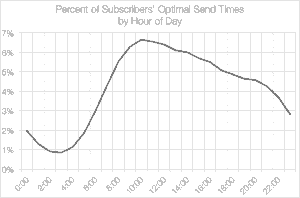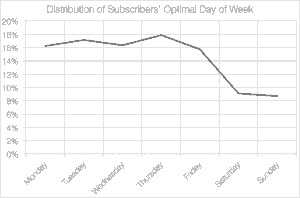 However, data from WordStream shows that the best time to send emails would be on Thursdays 8-9am.
And I'm sure that various sources would recommend different timings and days of the week to send to your subscribers. But there is no hard and fast rule to the optimal time to sending your emails. The suggested timings can only help to narrow down the list of possibilities and serve as a reference point for you to test out on your email campaign.
The only way to discover the optimal send time would be to test repeatedly in order to find out the demographics of your subscription list – depending on the age, interests and habits of your audience.
In addition, the optimal send time does not stay constant as your subscribers' email habits might change over time, so do not be complacent to cut down efforts to do periodic tests if you want to yield the best results!
7. Don't Forget Your Unsubscribe Button
It is mandatory to include the unsubscribe button/link in your email in compliance with the Singapore Spam Control Act.
Also, offer your subscribers the freedom of choice to decide if they want to opt-out of your mailer list. And this will actually increase the accuracy of your open and click-through rates.
Since you do not to promote excessive unsubscription, try to weave in witty elements and keep the tonality light to entice them to stay on your list.
For example, in Clickr's own newsletter, we attempted to provide readers with the option of adjusting their preferences to give them an alternative instead of hitting the unsubscribe button directly.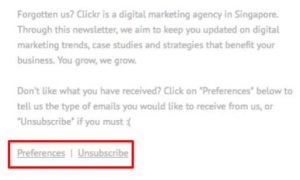 8. Mobile Is The Future of Emails
According to a study by email marketing firm Litmus, 53% of emails are opened on mobile. This trend is only expected to continue, and you could be missing out on your potential customers if you are not on board to optimise your emails for mobile. You might have interesting content curated for your email subscribers, but your efforts might go down the drain if your readers are unable to access via their phone screens.
Here is an example of Clickr's email that is both mobile and desktop responsive:
Users now seek instant digital gratification, and look for content to meet their on-the-go needs. You would not want to miss a chance to convert a lead because they are on one device instead of another.
Thus, optimise your emails to better suit the devices that your readers might be on – be it tablet, smartphone or desktop, to enhance user experience.
9. Always Evaluate Your Results
As the saying goes, you can't manage what you can't measure. Your email campaign will not be complete without the right metrics to evaluate it.
The four key metrics listed below will help to guide you through the process:
Deliverability
Be sure to track your this aspect relentlessly, as this refers to the number of emails that are actually delivered to your recipients (including the mails that end up in the spam or junk folders). This figure would tell you the amount of emails that bounced, or "bad addresses" you have in your mailing list.
Also, do note that if your list has a high percentage of bounce rates, it requires immediate attention for you to remedy the situation to find out the cause or filter out the non-functional email addresses timely.
Open Rate
Open rate refers to the percentage of recipients who actually received your mail and opened it. This is the first step in deciding if your campaign is successful and one of the key determinants that you need to monitor for your email optimisation process.
Click Through Rate
The click through rate may differ depending on your intended objective for users to click through to access your web page or a specific landing page.
Overall Conversion Rate
The conversion rate weighs the most in determining your campaign's success. It accounts for the amount of people from your subscribers list that translated into a sales transaction.
However, launching a campaign without clear objectives (i.e, encourage referrals, grow content readership, generate more leads, increase sales) is equivalent to foraging your way through the wilderness, without achieving any substantial goals.
At the end of the day, you need to have specific goals and objectives before embarking on your campaign, so that these metrics can be used effectively against your targets and evaluate the success of your campaign. Once you've established your goals, you will be able to tie each objective to the key metrics above and monitor the results to navigate towards success.
Lastly, even with the rise of social media, email marketing has proven itself to stay relevant against the test of time and it's simply one of a marketer's best bet to attain business goals. I hope this helped to explain why it is essential in your digital marketing strategy, and if you have any questions, pls feel free to contact us!